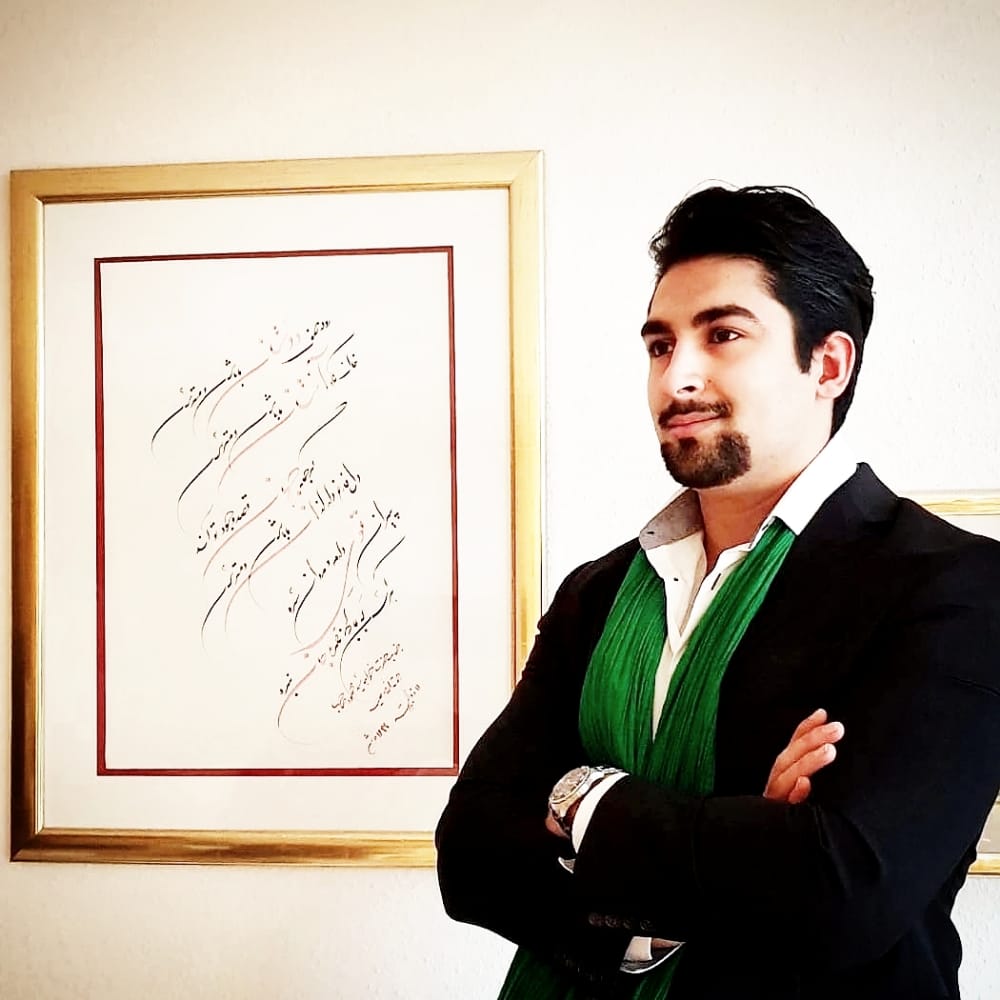 Prince Sayyid Raphael Dakik
54th Imam of the Ishaanite Imperial Imamate of Qadiri Naqshbandi Sunni Islam
إِنَّمَا يُرِيدُ اللَّـهُ لِيُذْهِبَ عَنكُمُ الرِّجْسَ أَهْلَ الْبَيْتِ وَيُطَهِّرَكُمْ تَطْهِيرًا
جلالت محاب حضرت ايشان
مير سید رفائل دقیق
خدا حفظش کنه
The Prince´s name in Persian calligraphy
His Highness Prince Sayyid Raphael Dakik (born on August 17, 1998 in Düsseldorf) is an Afghan Royal Barakzai Prince and a descendant of Hazrat Ishaan Amir Sayyid Mahmud bin Sharifuddin. As his successor he is the current Imam of the Ishaanite Imperial Imamate the Sunni Qadiri Naqshbandi branch of Islam.
54th Imam of Qadiri Naqshbandi Sunni Islam
Regnal title: Imam Al-Rafi Ishaan
Afghan Royal Hereditage
Prince Raphael son of Sultan Masood son of Prince Abdul Khaliq son of Prince Abdul Qayyum son of Prince Abdul Aziz son of King Sultan son of King Payinda Muhammad.
Harvard University

As a skilled Oil and Gas contract lawyer and extensive learner The Sayyid educates himself further in Hermeneutical Methodology at Harvard University, which is staying with its prestigeous name. Sayyid Raphael also visits lectures in International Law there.
University of Aberdeen
As an Oil and Gas professional The Sayyid furthermore specializes magisterially in International Trade Law at Aberdeen. Aberdeen is well known as the economical center of British Oil and Gas Industry with an exclusive Law LLM-Programm.
German Universities

Prince Sayyid Raphael received his fundamental judicial education in German Continental Law. He furthermore continues his extension studies in Physics and Chemical Engineering at German Private Universities.
Expertise
The Prince is considered an influential young leader with a strong Expertise in the field of Business Excellence as well as Technocracy, Diplomatic Arbitrage and Political Advocacy. He is a specialized Oil and Gas and Sharia Lawyer with extensional education in Hermeneutics from Harvard and Chemical Engineering in Germany. He is dedicated to the establishment of Greentech Solutions. He empowers innovative ideas and participates in Legislation.
International Trade Law
The Prince is educated in the field of Law acts in this field since many years, drafting contracts consulting various governments on questions of Transitional Management from Oil and Gas to Green Energy. His alma mater is in Oil and Gas Law from Aberdeen and in Hermeneutics from Harvard.
Diplomacy
Since 2019 The Prince has active expertise in strategic advisory of governments worldwide in questions of development and upscaling the quality of life. He educates him further in this field at Harvard.
Quality Management
The Prince is an expert in Quality Management, optimizing Political and Business management structures. He is dedicated with his team of researchers in engineering new Political and Financial solutions.
Social Contribution of Dakik family
The Prince works with his family in the field of Diplomacy between many states of the world. His Diplomatic activities include advocacy and arbitrage activities in the field of development in developing countries with a strong network of partners in the Elite.
Ancestry
The Prince is member of the House of Hazrat Ishaan which takes pride of their 1400 year old heredity to Prophet Muhammad, influencing the course of human history with a major focus on the Muslim World.
Research
The Prince and his partners are dedicated in research in the fields of:


International Law
Diplomacy
Natural Science
Islamic Heritage
The Prince´s leadership over the Naqshbandi confederation was announced on the occasion of his visit to Pakistan in year 2014.

The Qadiri-Naqshbandi confederation is an Iranic Muslim confederation, which foundation goes back to his genetical ancestors Abdul Qadir Gilani and Bahauddin Naqshband 700 years ago.
Next to the spiritual chains, that are abundant and merely act as academic accreditations, the succession of Bahauddin Naqshband´s office can only lie in the blood through Hazrat Ishaan and Sayyid Mir Jan.